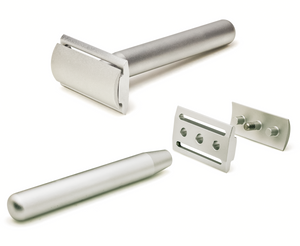 Classic Design, Modern Shave
Join tens of thousands in experiencing what has been called "Awesome", "Perfect", and the "Best razor I have ever used" by our customers.
From the premium aircraft grade aluminum to the durable anodized finish - buy one (or more) of our safety razors and make it the centerpiece of your collection!
BUY NOW
Double Edge Safety Razors - Redefined!
Safety razors were first introduced to the market in the mid 1800's. The first razors to use disposable double-edge blades were introduced in the early 1900's. Since then, cartridge razors, disposable safety razors, and electric razors have all been brought to market, but none have quite the appeal of the classic safety razor. While a lot of safety razors on the market try to recreate the feel and nostalgia of the original razors, at Standard Razors we take a different approach.
We determined that to take a classic form of shaving into the 21st century, we needed to tackle it from a different angle. We took a modern approach and designed a razor and matching stand unlike any other on the market. While you still get to enjoy the ritual that allows you to enjoy the closest possible shave, you can do it with a fashionable razor that won't look out of place in any home.
Each razor and stand is precision crafted from aircraft grade aluminum and ready to accept your favorite double-edge blade. Whether you are new to shaving with a safety razor or have years of experience, we look forward to welcoming you to the Standard Razors family.